Promoting production, ensuring food and foodstuffs
After 10 years of implementing Resolution No. 63/NQ-CP on ensuring national food security, the socio-economic situation of Long An province has positive changes, the average growth rate of agriculture, forestry and fishery in period 2010-2015 reached 3.9 percent per year and in period 2016-2019, it reached 2.3 percent per year. Besides, the province also effectively implemented the conversion of crops.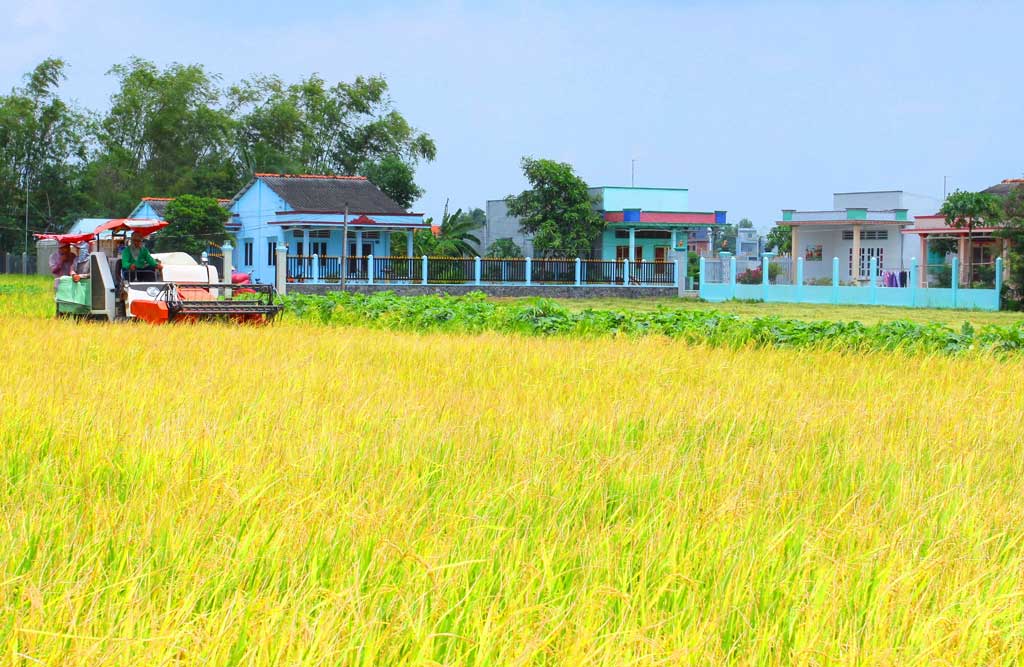 Long An promotes stable food production
Focusing on production
The whole province has 313,000 hectares of agricultural and forestry land. Agricultural production of the province is mainly rice, dragon fruit, lemon, vegetables, yams, dairy cows, beef cows, and brackish shrimp, etc. Over the past years, the province has focused on implementing restructuring agricultural sector towards the direction of converting crops with productivity and quality suitable to the consumption market, especially the implementation of the Project on developing High-tech Agriculture in association with restructuring agricultural sector; performing well the scientific - technical transfer. In addition, the policies supporting production development are also strictly and promptly implemented.
According to Deputy Director of Department of Agriculture and Rural Development (DARD) - Nguyen Chi Thien, up to now, the province has established concentrated agricultural commodity production areas based on the advantages of each ecological region, in accordance with the trend of market development, and competitiveness improvement in the product value chain; focus on restructuring, planting seasons, promoting the application of biotechnology, developing high-quality plant, animal and aquaculture varieties; associating production with processing, meeting market demand, etc. In the field of cultivation, rice is still the main crop of the province with an annual average output of over 2.7 million tons, of which, hi-quality rice account for 50 percent of the total rice production. Every year, over 30,000 farmers are transferred with the technique of rice production in the direction of "3 decreases, 3 increases", "1 must, 5 decreases", and produce in an organic manner. Director of Cooperation Go Gon (in Tan Hung district) - Truong Huu Tri said: "In order to make it efficient for farmers to produce, the cooperative officially implements the Large Field model under the "4-unit" link and supports members applied laser in soil preparation, flattening the field, applying the "1 must, 5 reduces" process in 2013; At the same time, it is a first-class agent providing pesticides, fertilizers and seeds, helping farmers reduce costs by more than 3 million VND per hectare compared to outside. Currently, the cooperative has more than 100 members, producing over 500 hectares with rice as the main crop.
Effectiveness in crop conversion
Based on the planning of production regions, the province has converted over 25,000 hectares of inefficient rice land to grow vegetables and fruit trees such as lemons, dragon fruits, aquaculture, etc. The economic results are quite high, suitable to the planning and regional advantages. Particularly in 2019, the province actively transferred over 2,700 hectares of rice land to plant 670 hectares of dragon fruit, 150 hectares of lemon, 383 hectares of jackfruit, 365 hectares of coconut, 80 hectares of grapefruit, 40 hectares of durian, so on and shifting to raising and cultivating aquatic seeds about 1,100 hectares; and applying hi-tech in production. Typically, the household of Mr. Ly Thanh Tai, living in Long Son commune, Can Duoc district, has transferred 2,500 square meters of alum contaminated agricultural land, often flooded, and inefficient rice cultivation to grow green pomelos. Or Mr. Ngo Van Trang, living in Tan An commune, Can Duoc district, experimentally planted 1,000 square meters of soursop-grafted pond apple tree on alum and saline soil. Trees grow well, bring high economic efficiency. On average, each soursop tree produces about 30 kilos of fruit, selling for about 20,000 VND per kilo, earning nearly 50 million VND per year. This is the model recommended by Can Duoc agriculture in the areas affected by acid sulfate and salt water because of low investment cost, simple caring techniques but high economic efficiency.
In the field of animal husbandry, in order to implement the project on developing hi-tech agriculture, the province has established the production area for raising oxen applying high technology in Duc Hoa and Duc Hue districts. Up to now, the province has supported to construct 10 models of beef raising to implement the application of production management under the VietGAHP process.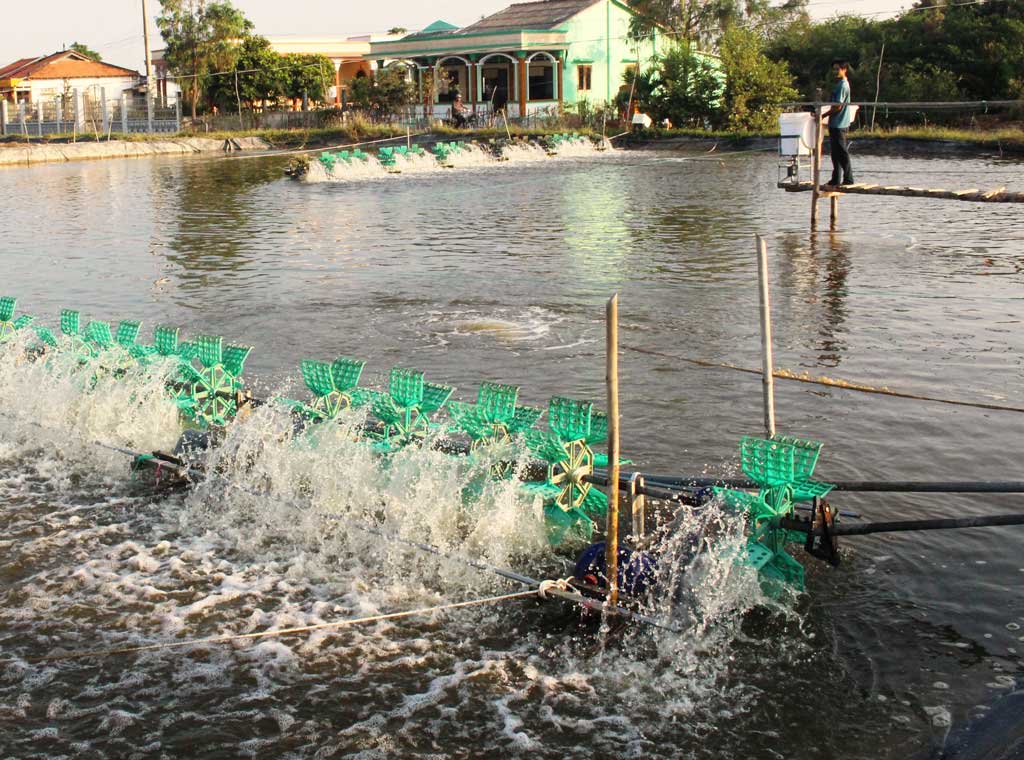 Effectiveness in crop conversion
Ensuring efficient production
In order to serve production effectively, the province is interested in investing in irrigation systems and inland transport. Director of the Provincial Department of Rural Development and Irrigation - Vo Kim Thuan said: "Up to now, the irrigation system for agricultural and rural development has been strengthened, invested quite synchronously and in a multi- objective direction, serving the development of agricultural production associated with the goal of restructuring the industry. The whole province has 399 kilometers of main canal axis (12 canals); 2,500 kilometers of grade-I canals; 2,200 kilometers of canals of grade-II; 174 electric pumping stations and many important irrigation projects and projects have been invested, meeting over 80 percent of the irrigation and saltwater prevention requirements and 60 percent of the requirements to fight early floods".
According to the Director of the Division of Crop Production, Plant Protection and Agricultural Quality Management - Nguyen Van Cuong, trade promotion and quality control of agricultural products were also promoted. Currently, the province has built 22 places for selling safe agricultural products and 17 supply chains of safe food. The whole province has nearly 370 hectares of rice, 115 hectares of vegetables, 540 hectares of fruit trees certified VietGAP, GlobalGAP; Some cattle, poultry and aquaculture farms are VietGAHP certified. At present, the industry continues to support cooperative producing dragon fruits according to VietGAP standard with an area of 270 hectares. The whole province has nearly 10,000 hectares of dragon fruit, more than 3,400 hectares of watermelon, nearly 200 hectares of bananas are granted planting area codes; 120 flower and fruit packing establishments were granted codes. The industry has supported traceability stamps for 3 businesses, cooperatives producing and trading rice and vegetables; continuing to support 7 enterprises and cooperatives to participate in the chain of traceability stamps.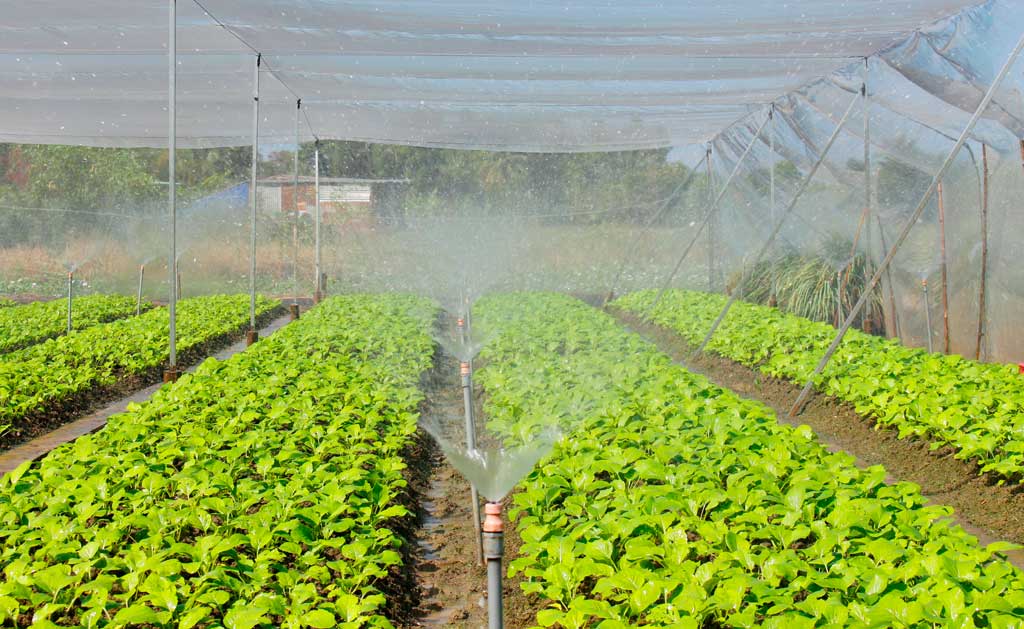 Effectiveness in crop conversion
Being still difficult
Director of the Department of Agriculture and Rural Development - Nguyen Thanh Truyen said: "While promoting agricultural production effectively, there are still difficulties in ensuring food security in the province. The structure of the agricultural economy, conversion of crops and livestock is still embarrassing, highly spontaneous, household economy is still the main form. The quality of agricultural growth is not high, unsustainable; processing industry establishments not yet associated with the material areas; production and consumption links are limited, the situation of "good harvest - devaluation" still occurs. The economic activities of cooperatives and cooperative groups are still weak and have not promoted the role of linking and supporting household economy. To restructure the economy in the direction of increasing industry and services, gradually reducing agriculture, more and more young laborers from rural areas to cities looking for jobs or focusing on industrial parks and clusters, leading to labor shortage in agricultural activities ".
In order to ensure the goal of national food security, the Minister of Agriculture and Rural Development - Mr. Nguyen Xuan Cuong said that the agricultural sector must ensure to minimize these challenges because this industry creates food and foodstuff that always ensure a stable supply for domestic consumption, not to increase food prices and avoid profiteering. Therefore, the industry needs to promote production together with solutions to cope with diseases under the direction of the Prime Minister. Currently, after the epidemic, the market often explodes in demand for goods. Therefore, the industry must prepare the best conditions when the epidemic ends to promote economic growth, creating momentum to boost exports.
Despite the "double" difficulties, the industry strives to achieve the "dual" goal of export and welfare, ensuring sustainable environment. In order to ensure that goal, localities must clearly identify risks and challenges for specific solutions, focusing on synchronous direction from the State. Units and even businesses need to clearly define the role of the leader, promote their advantages to turn risks into, exploit all opportunities. In the Winter-Spring crop of 2019-2020 in the Mekong River Delta, many localities have created to avoid the drought and saltwater. However, the Summer-Autumn crop is forecast to continue to face drought challenges in some areas, if the localities have good solutions, they will achieve good results" - Minister Nguyen Xuan Cuong said./.
By Huynh Phong – Translated by Duc Tam
Source: http://baolongan.vn/thuc-day-san-xuat-bao-dam-luong-thuc-thuc-pham-a92346.html