Promoting trade promotion, connecting supply - demand for goods
The Covid-19 epidemic was complicated, the production and consumption of goods faced many difficulties, especially agricultural products. In order to support the output of goods and agricultural products, the Department of Industry and Trade actively deploys and implements trade promotion, expanding product consumption markets through direct connection and e-commerce.
Strengthening connection
Facing the complicated situation of the Covid-19 epidemic, many supply chains broke down, the domestic market, many markets, businesses, shops, so on stopped operating. It is difficult for goods to circulate even within the province; low purchasing power; The export market is difficult, China stops importing dragon fruit; etc. Meanwhile, many agricultural products are harvested with large output and are difficult to consume immediately. Purchasing power usually focuses on some groups of necessary goods for daily living and consumption such as rice, eggs, vegetables and tubers; the rest of the other groups of goods were consumed slowly or were difficult to consume. The Department of Industry and Trade has implemented many solutions to develop the domestic market, promote goods circulation and improve the connection between production and the market according to the supply chain.
Deputy Director of the Department of Industry and Trade - Chau Thi Le said that the Department quickly informed the situation, provided information on the focal places of goods supply, especially the province's agricultural products, to the Ministry of Industry and Trade, as well as a commercial counselor at the Ministry of Industry and Trade in many countries, provinces, cities, associations, enterprises to connect consumption; at the same time, introduce Long An enterprises to participate in stabilizing the markets of the provinces, especially Ho Chi Minh City and Ha Hoi. Thereby, many enterprises and cooperatives provide products with stable prices to many provinces and cities in the country such as Duong Vu Company, Long An Food Company, Long An Food and Foodstuffs Company, My Thanh Cooperative, business households in Tan Tru district, etc. The Department quickly transformed trade promotion activities into the form of e-commerce, online connection; take the maximum advantage of the Zalo trading groups in the provinces, Zalo Long An Enterprise Association, Zalo Long An Compatriot, so on to promote, connect consumption, introduce agricultural products on the e-commerce flatform.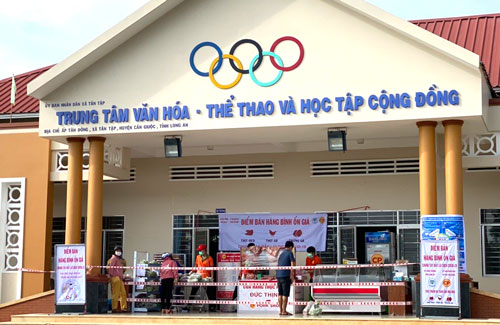 Products, essential goods and foodstuffs are sold at stable prices by the Department of Industry and Trade, businesses and cooperatives in the context of the Covid-19 epidemic
Up to now, many agricultural products of the province have joined Postmart, Lazada, Sendo, etc. The Department of Industry and Trade cooperates with e-commerce flatform, enterprises and cooperatives to supply goods through the flatform to pack goods at warehouses of enterprises and cooperatives; they are supporting products such as rice, dragon fruit, lemon, banana to join the Alibaba export flatform. The Department of Industry and Trade also connects households with enterprises and cooperatives in the province such as Co.op Mart system, San Ha Co., Ltd., Bach Hoa Xanh, Long An Post Office, My Thanh Cooperative, Long An Dragon Fruit Association, so on to consume goods and agricultural products.
Accordingly, during the 4th outbreak, the province supported more than 300 businesses to participate in conferences and seminars connecting supply - demand, online trading (agricultural products, processed products, rice, and dragon fruit). Thereby, businesses study about the markets in UK, Morocco, India, Netherlands and Pakistan. In particular, the Department has supported the supply of goods over 200 times of price-stabilizing sales venues, contributing to the supply of essential goods at stable prices to people in the context of the complicated development of the Covid-19 epidemic with a total volume of goods and services. The supply of goods is about 700 tons, the revenue is over 14 billion VND. There have been more than 250 tons of sweet potatoes, 60 tons of vegetables and tubers of all kinds, over 10 tons of guava, 20 tons of dragon fruit, 10 tons of shrimp, 5 tons of snakehead fish, 2 tons of pomelo and some other agricultural products directly connected to consume. Viettel Post also participated in the consumption of about 30 tons of goods and thousands of combos of goods. Post office consumes about 1,000 tons of goods, agricultural products and rice.
Innovating the way of organization
Currently, the epidemic is still complicated in Long An, especially in Ho Chi Minh City, so food, foodstuffs, especially agricultural products are still prioritized by the Department of Industry and Trade. Accordingly, the Department is coordinating with Saigon Telecommunications Technology Joint Stock Company (Saigontel) and Saigon Post and Telecommunications Services Joint Stock Company (SPT) to connect the food supply chain for Ho Chi Minh City. Five key product groups are rice; vegetable; dragon fruit; aquatic products (shrimp, frog); poultry. Goods are provided by enterprises and cooperatives in Long An with stable prices, Saigontel and SPT support the transporting cost to supplygoods to people in Ho Chi Minh City.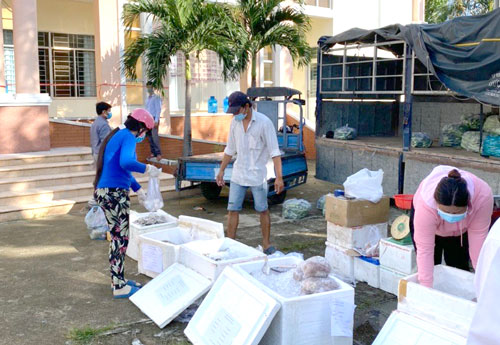 According to Ms. Chau Thi Le, promoting the positive results in connecting supply and demand, these programs will be maintained, improved and constantly innovated by the Department of Industry and Trade in order to support enterprises and cooperatives more effectively. In particular, trade promotion and supply-demand connection will shift the key factors from traditional promotion to modern trade promotion through information technology application, digital transformation, e-commerce development, and shift from direct to online trade promotion. The Department focuses on organizing and participating in connecting conferences and seminars to connect supply - demand, online trading; participate in online fairs; promoting the application and consumption of products through platforms such as the wholesale e-commerce platforms Alibaba.com, participating in promotion and selling through Vietnam's major e-commerce sites such as Shopee, Sendo, Tiki, Lazada, Voso and Postmart.
According to the assessment from the Department of Industry and Trade, trade promotion programs, connecting supply and demand and e-commerce are enthusiastically responded by the small- and medium-sized business community, highly appreciated for the approach as well as the effectiveness of support policies. However, there is currently a part of enterprises that have not invested and spent a lot of resources on trade promotion, expanding consumption markets, limited in packaging design, branding, etc. The Department of Industry and Trade will find out, supporting businesses through programs such as industrial promotion, trade promotion, so on to help businesses have quality products, high use value, connect consumption in modern distribution channels for sustainable development./.
By Mai Huong – Translated by Duc Tam
Source: https://baolongan.vn/day-manh-xuc-tien-thuong-mai-ket-noi-cung-cau-tieu-thu-hang-hoa-a122190.html